Willkommen auf den GnuCash-Webseiten
GnuCash 2.6.15 herunterladen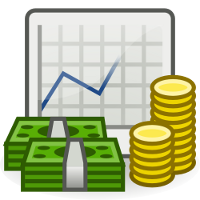 GnuCash ist eine freie OpenSource-Finanzverwaltung für GNU/Linux, Unix, BSD, Solaris, Mac OSX und Microsoft Windows, veröffentlicht unter der GNU GPL.
Das Programm ist eine Komplettlösung zur Verwaltung der Finanzen von Privatanwendern und Kleinbetrieben. Das aus dem Rechnungswesen bekannte Prinzip der doppelten Buchführung wird in GnuCash konsequent umgesetzt, so dass GnuCash höchste Ansprüche an die Kontenführung erfüllen kann. Auch Homebanking über HBCI wird unterstützt. Für den Geschäftsverkehr ist die Verwaltung von Kunden, Lieferanten und Rechnungen enthalten. Weitere Features sind terminierte Buchungen, Import von OFX-Dateien und QIF-Dateien, zahlreiche Berichte und Grafiken mit Torten- und Balkendiagrammen und eine benutzerdefinierbare Oberfläche.
Need Help?
Looking for someone to contact about GnuCash? Try the Mailing-Listen, which are public, email-based discussion groups where you can ask and answer GnuCash questions to other users.
Feature-Übersicht
Doppelte Buchführung
Aktienkonten, Währungskonten
Geschäftsbuchführung
Berichte, Diagramme
HBCI Online-Banking, QIF/OFX/MT940 Import
Terminierte Buchungen
Finanzrechner
Mehr entdecken...
GnuCash for Android
The GnuCash team recommends the GnuCash for Android app. This app allows you to keep track of your financial transactions on the go for later import into the desktop version of GnuCash.
Note that GnuCash for Android is not a port of the GnuCash program to Android.
Neuigkeiten