Welkom op GnuCash.org
GnuCash 2.6.17 downloaden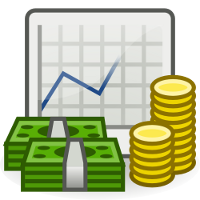 GnuCash is boekhoudsoftware voor thuis en voor kleine ondernemingen, beschikbaar voor GNU/Linux, BSD, Solaris, Mac OS X en Microsoft WIndows onder de voorwaarden van de vrije GNU General Public License.
GnuCash stelt u in staat om heel eenvoudig bankrekeningen, beleggingen, inkomsten en uitgaven bij te houden, zonder in te leveren op kracht of flexibiliteit. Net zo snel en intuïtief te gebruiken als een dagboek, maar gestoeld op boekhoudkundige principes om te zorgen voor een sluitende boekhouding en accurate rapporten.
Need Help?
Looking for someone to contact about GnuCash? Try the Mailinglijsten, which are public, email-based discussion groups where you can ask and answer GnuCash questions to other users.
Belangrijkste functies
Dubbel boekhouden
Ondersteunt aandelen, obligaties en beleggingsfondsen
Functies voor kleine ondernemingen
Rapporten en grafieken
Import vanuit QIF-bestanden of Online bankieren (OFX/HCBI), herkenning van bestaande boekingen
Periodiek terugkerende boekingen
Financiële berekeningen
Ontdek meer...
GnuCash for Android
The GnuCash team recommends the GnuCash for Android app. This app allows you to keep track of your financial transactions on the go for later import into the desktop version of GnuCash.
Note that GnuCash for Android is not a port of the GnuCash program to Android.
Nieuws